Roverpet Dog Plastic Puppy X Pen was purchased and my puppies love it. For instance it is a 4′ x 6′ 24″ high canine pen plus 3 panels for a puppy gate from you and now my puppy is so happy in his New Roverpet Kingdom. Above all else thank you so much for sending me all the Roverpet parts so I can piece my pet gate together.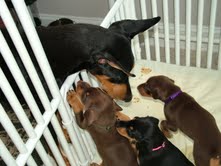 Best of all it was incredibly nice of you to do that for me and I really appreciate it. For example the PVC puppy cage panels interlocking design makes assembly quick and easy. Therefore we create a fun place for your puppy dog to play. For this reason the canine dog play pen can be used both in your home and outdoors. Most importantly we help protect your puppy dog from the elements in style.
I know you can arrange canine dog cage panels in many types of layouts. Because they have built room to exercise for the new puppy. For example the PVC dog canine pens door allows easy and controlled access for you and your dogs. Emphasis on easy to clean with soap and water. Most importantly the PVC canine pen is available in white. I know this modular plastic puppy dog pen folds up easily.
For instance our pet crate door swings freely or locks for containment. For example it really helped adding the wall attachments to better stabilize it. In addition I have good news is that the puppy dog cannot jump it (ha-ha). Oh…I also wanted to mention that are floor doesn't get scratched when we open the canine gate.
I think your Roverpet Dog Plastic Pooch X Pen is a great product. They are so easy to clean, too.
Take care!
Letitia R.
So Cal