Description
Roverpet Durable PVC Caster Wheel Clip for indoor modular pet dog crate pen cages are used to lock in our sturdy caster wheels.
Above all else the plastic pooch canine cages caster connectors are available now.
In addition the plastic puppy enclosure is easy to clean up with soap & water.
For example this PVC pet dog cage caster wheel clip design has a easy on / off robust system.
Most importantly the indoor plastic dog crate caster clip is designed for low profile grooming tables.
I can say the indoor plastic canine crate casters wheel clip features a rust resistant design.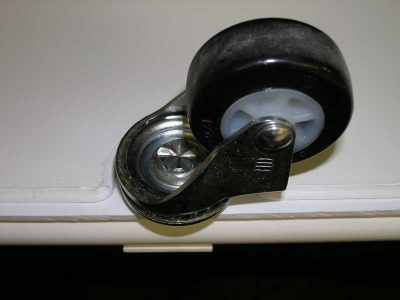 Emphasis on easy and quick installation for the pooch kennel.
For example the PVC Caster Wheel Clips can lock to keep your pet dog cage in one position.
They are designed to fit our indoor pooch pet crate caster wheels by attaching on top.
Best of all the plastic indoor pets crate provides portability & ease of movement when needed.
I would say on plastic indoor pet crates 49″ or longer six casters maybe necessary in order to support the weight.
For instance each plastic indoor canine kennels caster wheel swivels & locks which comes in handy when on an incline
I can say the plastic clip will keep the indoor canine dog crates moving smoothly and firmly.
In addition the puppy kennel Caster Wheel Clips are easily removed when needed (without tools).
Best of all the Roverpet canine pet products are made in the USA.
For instance our PVC pet canine crate hardware will to help ensure a sturdy fit.
Emphasis on easy to install on the indoor puppy dog kennels for years of reliability.
In addition these pet dog cage Caster Wheel Clips are made out of heavy duty PVC.
Items Included:               #CWC
(1) PVC flat stock clip