Description
Do you need a Dog Bed Replacement Cover or just want to change the color for your dog.
Above all else the elevated pet cot has a orthopedic design.
For example the pooch beds are veterinarian & shelter approved.
In addition the raised pet cot covers has a variety of colors to choose from.
The raised dog cot cover made out of Textilene ® Sunsure breathable vinyl coated fabric.
In addition the puppy bed fabric cover is durable and easy to clean.
For instance the pet cot allows 360 degrees air circulation which will help prevent coat matting.
The Dog Bed Replacement Cover will not hold or sustain fleas, moisture, or odor.
For instance the canine bed cover is made in the USA.
Most importantly the pooch bed cover is wind-resistant and water-proof.
In addition with the mesh design pet bed cover gives your dog a ventilated environment.
Above all else high quality pet kennels and great customer service is our first aim.
Please give us a chance to create a relaxing space for your dog.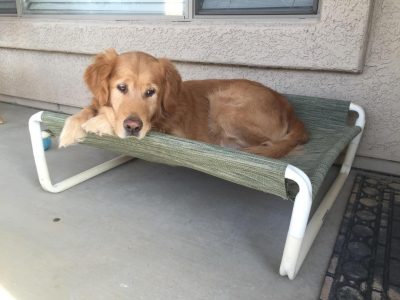 In addition the dogs are kept cool in summer months because of air circulation underneath the pets bed.
Above all else the Dog Bed Replacement Covers are off cold hard floors in the winter.
In addition our cozy dog bed is a relief for senior dogs' joints.
The animal bed fabric cover will keep your puppy dog dry.
For example the pet cots provides even support no pillow or cushion can match.
Emphasis on easy to clean – dog cots guaranteed to stand up to repeated cleaning's.
For instance they have a UV resistant finish on the canine bed fabric covers.
Most importantly the covers come in many different sizes
Items Included:
(1) Textilene ®. Sunsure Vinyl Coated Fabric Puppy Dog Bed Replacement Cover