Description
The Kitten Bed Replacement Upper Arm is 24″ long and sturdy design.
For instance these cat towers arms are made with PVC that support your pet's weight which makes them robust.
This sturdy plastic feline bed upper arm is veterinarian approved.
In addition the plastic kitten tree upper arms keep your feline raised up off cold hard floors in the winter.
We take pride in our ability to manufacture the best cat products.
Our plastic kitty cat beds upper arm is a relief for senior felines joints.
Most importantly the portable PVC cat bed are ideal for home or take with you when you travel.
Size: 24″ in length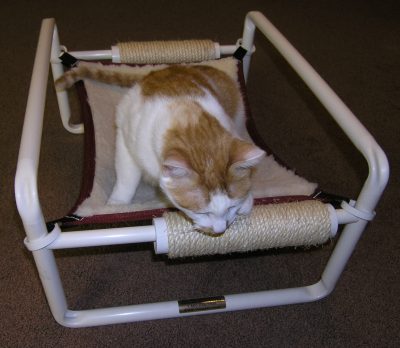 The Kitten Bed Upper Arms assembles in only seconds without glue or tools.
Emphasis on easy to clean – portable Cat Beds guaranteed to stand up to repeated cleaning's.
Most importantly the kitty cat tower plastic upper arms will not hold or sustain fleas, disease, moisture, or odor.
Pets are kept cool in summer months with the use of the raised kitty cat beds design allowing air circulation.
Above all else the durable portable plastic feline beds are available in gloss white.
It features plastic cat tree upper arm design and technology for added durability.
For instance the sturdy Kitten Bed Upper Arm is made out of heavy duty industrial strength PVC.
In addition the cat feline bed plastic upper arm can be easily cleaned with soap and water.
Most importantly the Roverpet PVC cat kennel and pet cot is made in the USA.
Putting your raised kitten beds arm together is a breeze a few simple steps to assemble and disassemble.
For example the plastic cat Kitten Bed Upper Arms resists dirt, grime, scratches, and smelly odors
Items Included:              #24CA 
(1) 24″ long  SCH40 PVC Kitty Towers Tubular Upper Arm