Description
The sealed Kitty Condo Single Door opens easily for controlled access.
For example the sealed plastic cat condo is lightweight but durable.
The cat condos are made out of Heavy Duty Industrial Strength PVC.
Emphasis on easy to clean sealed plastic kitten condos with soap and water.
For instance the water repellent plastic kitty cages sealed door is compatible with single door kitty enclosure.
Most importantly the sealed cat cages doors are made with a odor-resistant and easy-to-clean plastic.
In addition the sealed kitty enclosures plastic door is quick and easily cleaned in the event your feline pal has an accident.
The replacement sealed plastic kitten crate door is handmade making it stronger.
Size: 30″ high x 24″ wide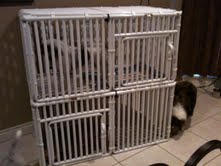 Our sealed plastic Kitty Condo Single Door opens easily and securely with our simple two-finger locking mechanism.
For instance the sealed feline condo plastic doors have a rust proof construction that is heavy duty.
For example the cat door clips and alignment pins help to keep the sealed kitty cage parts strong and sturdy.
Most importantly the Roverpet sealed plastic kitty kennels doors are made in the USA.
Your fuzzy friend will be the king of his/her very own cat castle with the use of a sealed cat kennels door.
For instance the sealed feline enclosure with a Kitty Condo Single Doors will make sure your pets stay safe.
Best of all the plastic cat kennel doors are sealed from the factory for years of service.
For example the sealed kitty kennel plastic doors can assemble quickly and installation is a breeze.
Above all else the sealed kitten kennels plastic doors are available in white.
The plastic sealed cat enclosures doors are attractive and safe for your feline.
Items Included:                 #CD30
(1)  30″ high sealed plastic kitty condo single doors.