Description
Roverpet Pet Cage Tops (Lid) is an ideal fit for our puppy pens.
It fits securely to the top of the puppy pen with the use of our panel hinge clips.
For instance the puppy crate lid assembles quickly for easy installation.
Above all else the Roverpet plastic canine cages are available in gloss white.
Roverpet dog cages tops can offer pets a sense of security, and privacy.
Emphasis on user-friendly dog cage tops design ensures easy access to inside space.
Most importantly instead of feeling exposed and on display, your pet can relax in dog kennels.
For instance they can create a cozy den-like space for your pet with help from this pets cages tops.
Size: 2′ wide x 2′ long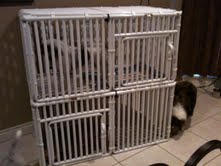 For example our Pet Cage Top opens easily and securely with our simple two-finger locking mechanism.
In addition our paw friendly puppy canine cage tops design has no gaps or pinch points.
Pet owners will be happy with being able to access the interior of the canine puppy cage through the top.
For instance the Roverpet plastic pet condo lids have a rust proof construction.
Roverpet durable plastic canine crate lids are easy to install and comes with step by step instructions.
Roverpet plastic dog pen lids are designed to meet your family's needs, also to make sure that your pet has harmony.
For instance the durable canine kennels tops panel cover provides protection for pets or small animals.
Roverpet dog Pet Cages Tops (Lid) is made out of heavy duty strength industrial PVC.
Emphasis on easy to clean sturdy plastic dog crate tops with soap and water.
Most importantly the plastic pooch kennel tops only have a 3/4″ spacing between vertical bars.
Items Included:                    #124C
(1) PVC pet cages lid (tops)
(8) #200 panel hinge clips