Description
Roverpet Portable Indoor Modular Sturdy Plastic Small Puppy Dog Whelping Pen Box is part of our line of durable pet canine kennels cages.
For example the small indoor canine weaning pen is safe for your pooch.
I can say the modular dog cage pens have a 3/4″ spacing between vertical bars
For instance they come standard with Sealed PVC Floors & Puppy Rail System.
Best of all our Golden Retriever Whelping Box are comfortable & modular.
Most importantly the pooch crate reduces the danger puppies could face if they roam free.
In addition the Poodle Puppy Whelping Box is designed to protect the litter.
Size 24″ high x 4′ wide x 4′ long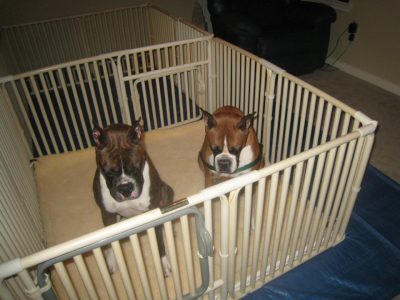 For example, this Dalmatian Puppy Whelping Box is where your pregnant pet will feel comfortable to have her small puppies.
For instance we produce the Plastic Small Whelping Box for dogs in America.
Above all else this Great Dane Whelping Box comes with a non porous grade plastic.
Our Plastic Small Whelping Boxes are a breeder's best tool that can easily be taken apart.
Most importantly the indoor canine dog crates are perfect for those canines that are expecting a litter.
(No Tools or Glue Needed to Assemble)
In addition the indoor Small Puppy Dog Whelping Boxes are made from Heavy Duty Industrial Strength PVC.
For example whelping a canine is a snap in a Bulldog Puppy Whelping Box.
Above all else the modular canine pooch kennel is available in white.
Best of all the plastic modular puppy crate is lightweight & durable.
For instance the whelping kennels will help eliminate newborns from escaping.
Optional Item: #44CSC puppy dog x pen cover for the top.
(1) #44DPK puppy dog keeper 6″ high (please note your color choice)
Note: PVC Canine Pig Rails can reduce the risk of possible suffocation.