Description
Roverpet PVC Pet Bowl Strap for 7″ Bowl (36oz).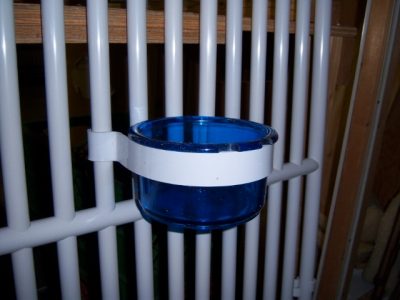 Above all else these PVC Pet Bowl Strap have a contoured design for comfortable lifting off when cleaning.
Roverpet patented design will hang dog food plastic buckets without tipping over.
For instance the puppy crate hardware is perfect for keeping your dog's food pail off of the dog kennel floor.
In addition the patented design hardware will keep in place with active puppies and hold most canine plastic pails.
Roverpet system for pet crate water pails will keep it off of the canine kennel floor for sanitation purposes.
For instance the PVC Pet Bowl Straps hardware is designed to securely attach to hold water or food bowl.
For example vet clinic place these on puppy kennels to prevent dogs from knocking their food or water bowls.
Roverpet paw friendly plastic dogs crates design has no gaps or pinch points.
Therefore the water repellent pet bowl holder is compatible with plastic dog crates.
Most importantly the canine kennels are made with a odor-resistant and easy-to-clean plastic.
Roverpet PVC Pet Bowl Straps reduce spillage and maximizes puppy dog pen floor space.
Best of all the Roverpet plastic dog enclosure is made in the USA.
Items Included:              #BWST-7 
(1) PVC mounting strap for dog bowls.
Note: blue dog bowls no longer available.