Description
Roverpet Pet Urine Splash Guard PVC Clip mount easily for quick access.
For example this clip attaches to the bar pipe on a dog cage.
In addition our pet product will help protect your rabbit or small animal from placing messes outside the animal cage.
For instance they are designed to attach to your rabbits favorite corner of the puppy cage.
Roverpet puppy kennel guard clips are 2″ long, with molded design for secure attachment.
Most importantly these plastic pet cages urine guard clips are hardy and practical.
Above all else it includes notches to easily secure the plastic urine clip to the side of the pet crates.
This is designed for PVC small animal cages to help keep bedding and other messes in pet cage.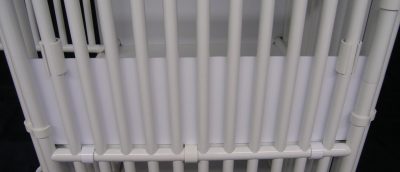 In addition our Urine Splash Guard PVC Clips easily attaches to pets cage to help prevent splatter.
Roverpet dog pen pet urine clip will not rust, rot, or splinter
Therefore with options for dogs, cats, rabbits our dog pens clip accessory makes it easy to care for your pet.
Most importantly no tools are required to install this dog urine splash guard pet pen clip.
For example it will help prevent urine from spraying out the back of the plastic pet crate.
In addition the Roverpet Urine Splash Guard PVC Clip is made out of Heavy Duty Industrial Strength.
Emphasis on pet kennel pee guard is lightweight but durable.
The puppy crates are attractive and safe for your pets.
For instance the canine kennels pee guards are available in white.
Roverpet dog crate and puppy pen have a easy installation.
Best of all the Roverpet plastic dog kennels are made in the USA.
Items included:           #USG7C
(1)  PVC Urine Splash Guard Clips.
The 7″ high flat stock 1/8″ thick PVC is not included.