I know some dog owners struggle with purchasing an Elevated Large Pooch Cot online. If you want your extra-large canine to stay happy, then get the elevated large dog cot. For instance Roverpet manufactures the elevated large canine cot in the USA.  I will say these are best extra-large dog beds on the market today. In addition your lovable large-sized pet will get restful sleep on the elevated large puppy cot. I would say the best canine beds for large dogs are made in America.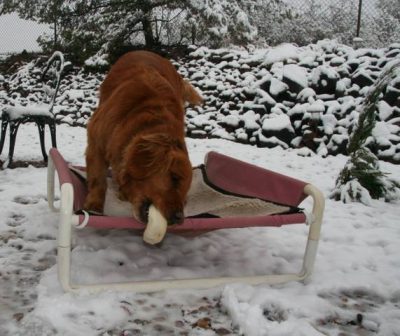 Best of all the canine friendly design, is first and foremost with the elevated large pet cot. For example the elevated dog cot is ideal for side-sleepers and head-resters. Above all else there's plenty of room for your dog to maneuver on the elevated pet cot. Most importantly all big breed dogs need a high-quality raised pet bed. This has little to do with pet parents spoiling their fur babies. Additionally, older dogs need the elevated canine cot for comfort.
It's this design that will help them to stay warm during cold winter months. I know certain dog breeds need extra TLC from pet owners to get over the related stress. For instance raised dog beds can help with offering comfort and support. If your pup likes to sleep curled up, it's best to opt for a raised canine bed to accommodate. If your puppy likes to sleep sprawled-out with, try going for the raised large dog bed. The product is available in several colors and includes a plush sleeping surface. In addition the puppy bed's orthopedic design makes it ideal for cuddling canines of all ages. Most importantly there's also a washable cover that's easy to clean and remove. I know some pet owners struggle with purchasing an Elevated Large Pooch Cot online.