I will say some cat owners struggle with purchasing an Indoor Plastic Feline Gate online. If you're in the market for an indoor plastic pet gate always choose that's made in America. For instance Roverpet manufactures the indoor plastic cat gate in the USA. Most importantly choosing the correct size indoor plastic kitten gate can be challenging. I know your little furry kitten will jump over a foreign made indoor pet gate.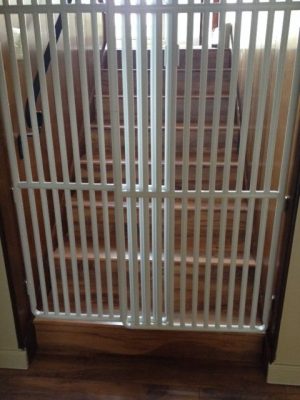 I would say these indoor plastic kitty gates will work great in most situations. Best of all these are the best tall indoor pet gates on the market today. For example the tall feline gates need hardware to attach them to the door frame or wall studs. In addition these tall kitten gates are the most secure and sturdy today. Above all else the indoor tall kitty gate will contain all your pets in different rooms if needed. I know these indoor tall feline gates will work well at home or the office.
Best of all the plastic tall indoor cat gates won't rust, rot, peel, or flake. When placing a cat gate at the top of stairs, be sure to use the mounting hardware provided. For instance finding the best cat barrier that will contain all pets is just as easy as point and click. If you're looking for a tall indoor kitty gate that stop them from jumping over, then look no further. It is also very sturdy once mounted so that they can't just knock it over to get around it. In addition freestanding tall pet gates are recommended for large rooms or wide hallways. For example tall indoor kitten gates are well suited for apartment town home living. I will say some pet owners struggle with purchasing an Indoor Plastic Feline Gate online.