I know many pet owners struggle with purchasing a Outdoor Raised Dog Bed online. Most importantly pets love to sleep on a outdoor raised pooch bed instead of the ground. If you consider your pup part of your family, give them the luxury of a outdoor raised pet bed. I know a outdoor raised canine bed can be an excellent primary space for your pup to rest. In addition this outdoor raised puppy bed is made from a water resistant material. Best of all there are many advantages with a USA made outdoor elevated pet bed. Above all else these outdoor elevated dog cots will never rust, rot, peel, or hold odors.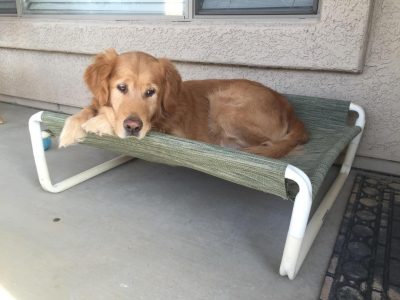 I will say the Roverpet outdoor elevated pet bed can assemble or disassemble in a matter of minutes. Best of all you won't need tools a to put this outdoor elevated puppy cot together. For instance there are many ways your dog could benefit from an outdoor elevated canine cot. For example a outdoor elevated canine bed is a place to sleep and will help keep them warm. I would say this outdoor elevated pooch bed helps provide more air circulation during those hot days. I know dog cots help keep pets warm during the winter because they're not sleeping on the cold floor.
Most importantly elevated pet beds are much easier to clean, just rinse them off. I know the PVC pet cot frame will never rust no matter how many times you hose it off. Above all else elevated canine cots are good for older dogs. I will say the elevated puppy cots have a replaceable bed cover if ever needed. For instance the elevated pooch cot is ideal for canines. I know many puppy owners struggle with purchasing a Outdoor Raised Dog Bed online.