I believe some canine owners struggle with purchasing a Outdoor Raised Dog Cot online. I know for a fact the outdoor raised pet cots are for elderly dogs who love to sun themselves. For instance furry friends with particular injuries will enjoy resting on a outdoor raised canine cot. I will say there are a variety of benefits to a outdoor raised puppy cot. In addition the outdoor raised pooch cot is comfortable and allows better air circulation around your dog. For example the outdoor elevated dog cots design prevents mold and mildew. Most importantly the outdoor elevated dog cot allows for easier cleaning.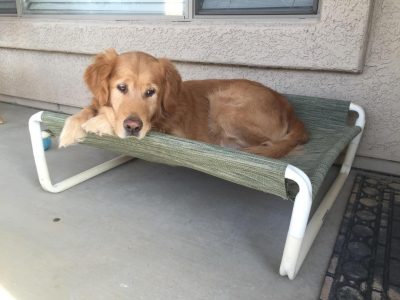 Above all else the outdoor elevated canine cot offers even support for your pet's joints. I know the Roverpet elevated pet bed is manufactured in the USA by craftsmen. Best of all your pets will be truly happy with the outdoor elevated puppy cot. Most importantly the elevated pet cot comes in five different sizes for all your needs. In addition the outdoor elevated pooch cot will never rust, rot, peel, flake or hold odors. I would say you can wash the elevated dog cots over and over with no issues. This elevated pet bed comes in four colors, you can choose the best one to suit your decor.
It can hold weight up to one hundred and fifty pounds, which makes it a great choice. It'll also help keep your dog cool thanks to breathable mesh. For example the elevated pooch cot assembles and disassembles with out the use of tools. It's also built to be exceptionally durable and portable for those who love camping. Most importantly the PVC frame makes this pet cot feel very durable and long lasting. I believe some pet owners struggle with purchasing a Outdoor Raised Dog Cot online.