Roverpet Plastic Dog Pooch X-Pens was bought last year at the puppy show in West Springfield. In addition I just Love the product, it has been very versatile for our family of 4 furry kids (Aussies). For instance we have actually found them to very useful in 3 and 4 sections for doorways and to limit access to the upstairs by just lowering the middle panel down a bit the pup is discouraged from pushing harder on it.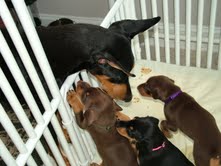 Therefore the indoor puppy cages are highly portable, modular, and expandable/dividable. Because they are made out of Heavy Duty Industrial Strength PVC, they can last for many years. For this reason they are ideal for pets napping, relaxing and playing in a controlled environment. Therefore the x large indoor canine pens are cozy and extremely durable. Because they have built room to exercise for the new puppy.
For example the small canine pens door allows easy and controlled access for you and your dogs. Emphasis on easy to clean with soap and water. Most importantly the small canine dog pen is available in gloss white. I know they are ideal for puppy breeders, home use, and kennels. Besides they can assemble quickly without the use of tools or glue.
For example the dog cage panels interlocking design makes assembly quick and easy. Therefore we create a fun place for your dog to play. For this reason the versatile dog play pen can be used both in your home and outdoors. Most importantly we help protect your pet from elements in style. I know this plastic dog crate folds up easily. For instance our pet crate door swings freely or locks for containment.
I am always raving about Roverpet Plastic Puppy X Pen to other dogs people.
Thanks so much,
Debra L.
MA