I believe some pet owners might struggle with purchasing the Raised Medium Canine Cot online. I know there are benefits to elevated pet beds, that your pooch will enjoy for years. For instance Roverpet manufactures the sturdy raised medium dog cot in the USA. I will say these raised medium pooch cots are very durable and portable. I would say the raised medium puppy cot is cushioned and sturdy for your pets. Most importantly the raised medium pet cots can be ordered in four different colors.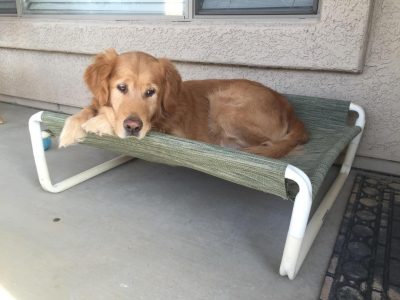 I know the elevated dog beds provide some serious advantages over the foreign made models. In addition these elevated pooch beds are made in America. Best of all the frame of this elevated puppy bed is industrial strength PVC. The pet bed fabric is pulled taut across the frame to provide support for the dog's body. I will say this elevated canine bed design provides benefits for dogs who are arthritic. For instance raised dog beds are perfect for getting your pooch off the hard floor. I know the raised pet beds will reduce pressure points on hips, hocks, and elbows.
In some dogs, without the pooch bed it can lead to calluses, especially over the elbows. Best of all these raised puppy beds won't rust, rot, peel, flake, splinter or hold odors. In addition indoor elevated pet beds eliminate these pressure points leading to a more comfortable sleep. For example indoor elevated pooch beds are wonderful for keeping your friend warm in the cooler months. Above all else these indoor dog cots will not require tools at assemble or disassemble. For instance during the warmer months, the elevated design allows for air to circulate beneath your dog. I believe some pooch owners might struggle with purchasing the Raised Medium Canine Cot online.