It has been said that purchasing a Raised Medium Dog Cot online can be challenging. I know your dog's comfort isn't the only reason to invest in an elevated pet bed. For instance Roverpet manufactures the raised medium pet cot is made in the USA. I would say the raised medium canine cot offers several benefits for your pets. I will say the perk for getting a raised medium pooch cot is to get your dog off the floor. Most importantly the raised medium puppy cot is for pooches who are elderly or suffering from arthritis.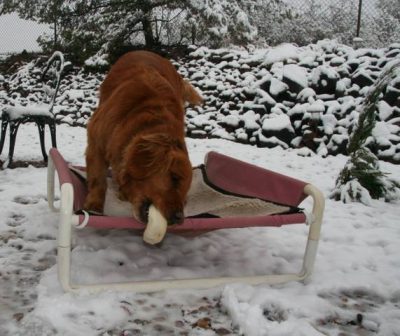 In addition the elevated dog bed can help with sore joints like hips and the back. I know an elevated canine bed reduces the struggle older dogs have in getting up from the floor. For example another perk of an elevated puppy bed is temperature control. I would suggest getting your pooch off a cold floor in winter, with a elevated pooch bed. In addition the Roverpet raised dog bed keeps the air circulating underneath them. For example it can be used outdoors to keep your pup out of mud, wet grass & moist patios. I will say these raised pet beds are made of tough, durable material that can be hosed off.
I know the raised canine bed can be ordered in four different colors. For instance it's made of high strength poly-resin, this pet bed is built to last. It provides firm orthopedic support for senior dogs. It will stand up to the sun as well as repeated cleaning. Best of all the raised pooch bed won't rust, rot, peel, flake, splinter or hold odors. It comes in six sizes for very small to very large dogs. It has been said that purchasing a sturdy Raised Medium Dog Cot online can be challenging.