I know many dog owners might struggle with purchasing the Raised Medium Pet Cot online. If you're looking for a raised medium pooch cot that offers a lot of durability, look no further. For instance Roverpet manufactures the raised medium puppy cot in the USA. I would say this elevated dog bed should be on your radar today. If your looking a for raised medium canine cot that portable and durable, check this one out. Most importantly this elevated pet bed is made in America.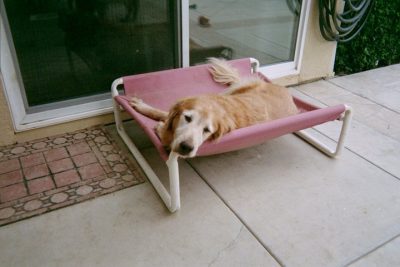 In addition the raised medium puppy cot will come into less contact with dirt and dust.  I know you can order the elevated canine bed in four different colors. For example the elevated pooch bed is easier to clean then the foreign made models. Best of all the elevated dog bed won't rust, rot, peel, flake, splinter or hold odors. Above all else not tools are needed to assemble or disassemble the elevated puppy bed. In addition, this raised dog bed is very portable and lightweight.
If your dog has joint issues an elevated puppy bed will provide them with the support. Best of all you could even add a fleece cover to make it extra comfy. It's got style and can be comfortable for your pup nightly. I know this raised pet bed is made of breathable fabric to keep your dog cool. For example the fabric is easy to keep clean and resistant to fleas, mites, and mildew. I like that this pooch bed allows my dog to lay on without being directly on the grass. It's holding up well through wind, rain, and sunshine. This elevated dog cot is durable, due to its strong PVC frame. I know many pooch owners might struggle with purchasing the Raised Medium Pet Cot online.