Description
The Shelf Folds Down Clip is used to support the shelves in our Roverpet multi-unit dog kennel.
For instance they connect directly to the cross bars of the pet cage panel.
In addition they are then placed on the dog crates panel for rigidity.
For example they hold the canine crate shelves straight and secure for hours of usage.
This design clip for pet crates offers a security when are away or busy.
Most importantly they are designed to add flexibility and sturdiness to the pet gate.
Above all else the plastic clip can be quickly removed when it's time to move the dog cage shelves.
The dog crate shelf clip helps to prevent tipping and keeping pets exactly where you left them.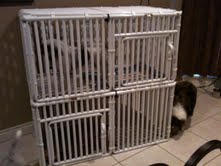 Best of all the Shelf Folds Down Clip is veterinarians approved.
The puppy crate shelf hardware is lightweight and durable.
For that reason the pet crate shelf hardware provides a contemporary alternative.
The plastic puppy cage shelf hardware is simple to install.
In addition no tools are required for use, and the beautiful finish matches the dog cages.
This Roverpet crate system is a great choice for homes with active, or restless animals
Most importantly the Shelf Fold Down Clip is made out of heavy duty industrial strength PVC.
In addition the kitten cage shelf clip hardware can be used to secure modular units together for your pet kennel.
Emphasis on easy installation puppy crates for years of usage.
In addition the canine kennels are available in white.
The canine crates clean up is a breeze with soap and water
Best of all the Roverpet pet enclosures are made in the USA.
For instance this clip will add stability to dog kennels multi units while offering convenience.
Items Included:            #FDC
(1) PVC Shelf Fold Down Clip