Description
Roverpet Cat Scratch Sisal Roller is design to give your feline hours of enjoyment.
This feline scratch roller is delightful and convenient which will allow your kitty time to play.
In addition the sisal material we use when constructing this play toy for your feline cat is well built.
For example a kitten scratching sisal roller provides an outlet for your feline normal and necessary urges.
For instance a kitty sisal scratch roller is made from the Agave plant that is native and healthy for your kitten.
Above all else our sisal kitty scratch roller will help save your furniture and your kitty's claws.
Roverpet kitten sisal scratching rollers are long, sturdy and covered with cat friendly woven sisal.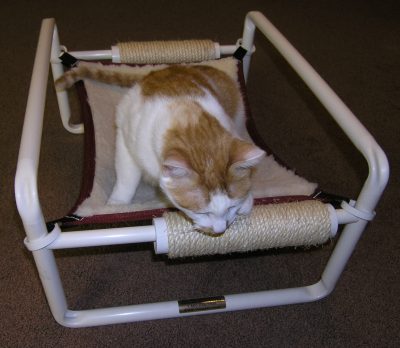 Above all else Roverpet Cat Scratch Rollers are round so it's easy for a cat to get their paws it.
For example a cats love to scratch sisal rollers, making it the perfect scratching material.
Best of all scratching on a feline tree is essential part of a feline's mental and physical health.
For instance if your kitten is scratching up your sofa, then you need a feline scratching roller.
In addition a kitten marks their territory by scratching, well you need a kitty cat scratch roller for that.
The scent glands in your kitten's paws will be left on the roller they scratch and marked as theirs.
In addition it feels good for cat to scratch a sisal scratch roller because it makes them feel good.
For example being able to mark a feline's territory will leave your cat relaxed when they use a indoor kitten cat scratch roller.
Best of all the indoor sisal Cat Scratch Roller and pet cot are made in the USA.
Items included:                 #CSR12
(1) PVC roller tube wrapped in sisal rope 12″ long