Description
Roverpet Cat Scratch Sisal Roller for elevated pet kitty tower hammock trees is design to give the felines hours of enjoyment.
This kitten tree scratch roller is delightful & convenient which will allow your kitten time to play.
In addition the sisal material we use when constructing this play toy for your feline is well built.
For example a kitten tower sisal roller provides an outlet for your feline normal & necessary urges.
For instance a kitty sisal scratch roller is made from the Agave plant that is native & healthy for your kitten.
Above all else our sisal feline tower scratch roller will help save your furniture and your kitty's claws.
Roverpet kitten sisal scratching rollers are long, sturdy & covered with cat friendly woven sisal.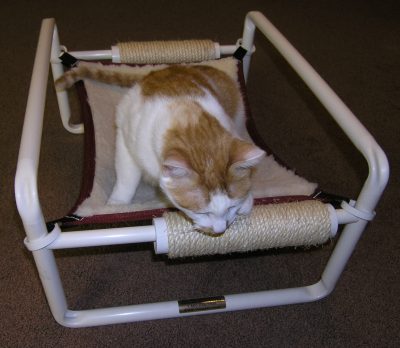 The scent glands in your kitten's paws will be left on the roller they scratch & marked as theirs.
In addition, the feline sisal scratch roller allows them to feel good & happy.
For example being able to mark a feline's territory will leave your cat relaxed when they use a indoor kitten tree scratch roller.
Best of all the indoor sisal kitten Cat Tree Scratch Roller are made in the USA.
Items included:                 #CSR12
(1) PVC roller tube wrapped in sisal rope 12″ long